We're coming to Cape Coral, Florida!
You might have seen the construction signs going up in Cape Coral and wondered what new business was coming to town.
Maybe you hoped it was a trendy boutique, or a yummy bakery. And then you saw signs go up that said "Future Home of IncredibleBank."
A bank? Not quite what you were hoping for.
And sure, we're biased, but here's why we think you should still be a little excited about this new bank with the unusual name:
ICE
That's right. ICE. And no, not the stuff that keeps your drinks cold. For us, ICE means Incredible Customer ExperienceSM, and it's our promise to you.
We know, we know. Everyone says they provide the best customer service.
But we don't expect you'll just take our word for it.
Here's what our customers have to say: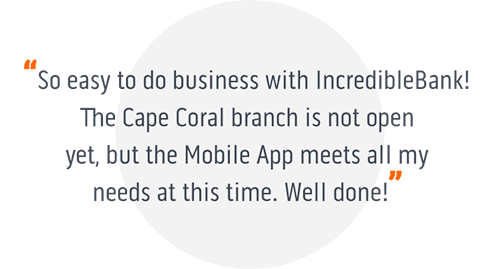 Here are more ways you can feel the IncredibleBank experience:

Meet virtually with our new Market President, Sergio Nascimento.
You can…
Apply for a loan... 
Find us on social media!

---