WAUSAU, Wis.,September 8, 2021
– IncredibleBank hosted its 11th Annual
Never Forgotten Honor Flight
Charity Golf Outing on August 16th, 2021, at the Wausau Country Club. The outing, featuring a silent auction, hole events and competitions, cocktail hour, dinner, and an awards ceremony, was a huge success, raising $29,301 to help send our veterans to Washington, D.C.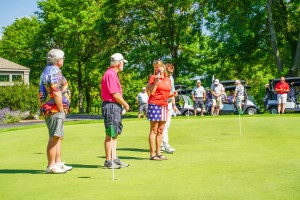 "IncredibleBank was honored to once again host this year's outing, along with so many businesses who joined us in supporting this important event," said Kathy Strasser, IncredibleBank EVP, Chief Operating Officer/Chief Information Officer.

"We have a strong commitment to veterans, and this is a way for us to honor them for their sacrifices and achievements for our country. One of the highlights of the event for all participants is the direct interaction with veterans themselves who are an integral part of the outing, making for a very special day for all involved."

For each $500 raised, we are able to send one World War II, Korean War, or Vietnam veteran to Washington D.C. to visit the Memorials built in their honor. With the money raised at the golf outing, we will be able to send 58 veterans on this momentous trip. While Honor Flight has postponed 2021 flights due to the pandemic, they expect to resume flights in 2022.

Next year's event is already on the schedule and is planned for August 15th, 2022.

About IncredibleBank
℠
IncredibleBank, headquartered in Wausau, Wisconsin, was awarded as one of
America's Most Innovative Banks
by the Independent Community Bankers of America in 2019. With deposit and lending customers in all 50 states, plus their status as one of the nation's top
motorcoach
and
SBA lenders
, they are America's First Online National Community Bank (and who doesn't love the idea of a national community?). They are dedicated to their promise of an Incredible Customer Experience
TM
with every interaction.