Hunger & Homelessness Awareness Week, or HH Week, was created to bring awareness to the challenges of poverty, hunger, and homelessness. Additionally, it's a way to encourage people to donate their time and resources to causes focused on these issues.
At IncredibleBank, our employees stepped up in a big way: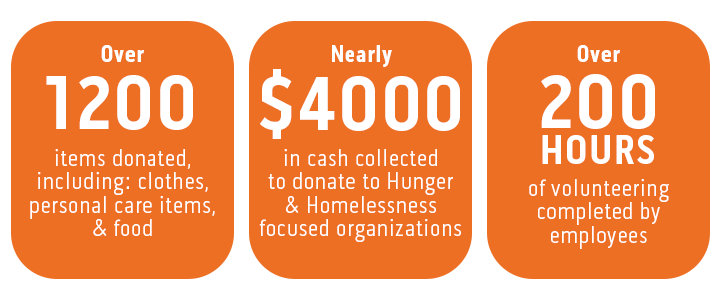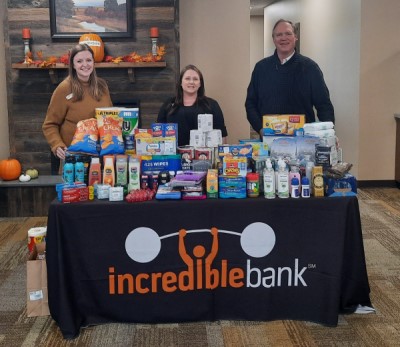 Here are just a few of the ways our team supported the cause:
The Ironwood team collected about 450 personal care items for Dove Inc. , a domestic violence shelter, in their lobby as well as food items for Eat Smart Knapsack Program which benefits students in need in Gogebic County.


The team at our Tomahawk branch hosted a food drive for The Salvation Army of Tomahawk Backpack Program which provides kids struggling with hunger with a backpack of food for weekend use. They collected 221 items of food plus $135 in cash.


The Eagle River team provided a $500 donation to Northwoods Share. The donation supplied a full Thanksgiving meal for 100 people that team members helped deliver.


Members of the Marquette teams – at Third Street and Washington Street – volunteered to pack meals for JJ Packs and Cat Packs and made a monetary donation. These organizations provide nutritious food to kids in need to help them get through the weekends. These packs helped 44 students in need at the North Star Academy and 198 in need at Marquette Public Schools.


The Houghton team donated $1,000.00 through the Giving Tuesday Campaign at Portage Health Foundation. The proceeds will be directed to 31 Backpacks (which supplies food to area youth) and matched as part of that program.


The Calumet team put together 24 "Thanksgiving Meal Kits" to distribute to the Copper Country Angel Mission's food pantry. The kits included a box of stuffing, instant mashed potatoes, cranberry sauce, gravy mix, green beans, corn bread mix, cake mix, frosting, and a gift certificate toward their turkey.


The Wausau branches hosted a donation drive for Jireh Food Pantry. This organization learns of families in need and works to provide them the food they need to make a complete meal. They also provide hygiene products, select apparel, and toys. Between the four Wausau area branches – 17th Avenue

,

Grand Avenue, Weston, and Rothschild – they collected 190 food items, 73 personal hygiene items, and 8 toys. 


The Minocqua team put together Thanksgiving Day meal kits for students in need at a local school. Customers of the branch donated the sides, including potatoes, stuffing, gravy, and more, and the staff at the branch provided gift certificates for a turkey.


The Iron Mountain team participated in the TV6 Can-a-thon This event entails collecting non-perishable food items for the Salvation Army and building a sculpture with the donated food items. The team also made a $500 donation to The Salvation Army and another $250 to the Florence & Niagara school districts for their backpack programs that send food items home with students in need.


The Merrill team hosted a snack drive for area elementary schools. They collected $110 worth of snacks.


The Wausau Support Center, which includes all of our back-end teams such as deposit operations, our Customer Experience Center, finance, marketing, IT, loan operations, business services, and other teams, had 19 people package and distribute Thanksgiving meals and help with other projects at The Neighbors' Place food pantry. This group also participated in a clothing drive for the Wausau Warming Shelter.


Members from three Support Center departments worked together to make 200 individual laundry detergent bags to be distributed to school food pantries and the Warming Center.


Other individual team members made donations including $1,500 in monetary donations, plus donations of clothing, personal care items, food items, and more.


It's clear in times like these that when we work together toward a cause, we can make a positive impact in our communities. We are grateful to be in a position to participate in HH Week, and especially grateful to our employees and customers who helped support this great cause.